Your building is designed to accommodate a variety of features that enhance its function. Some of these, like the downspouts and gutters, help drain water away to prevent the build-up of moisture within the foundation and structure of a building.
Other features like vents and windows facilitate the flow of air throughout the structure, improving air quality and comfort for everyone inside the building.
Louvers are used in buildings wherever there is a need for creating resistance to rainwater, excessive noise, hurricane-type winds, or a combination of these problems – while also ensuring proper airflow.
What are Architectural Louvers for?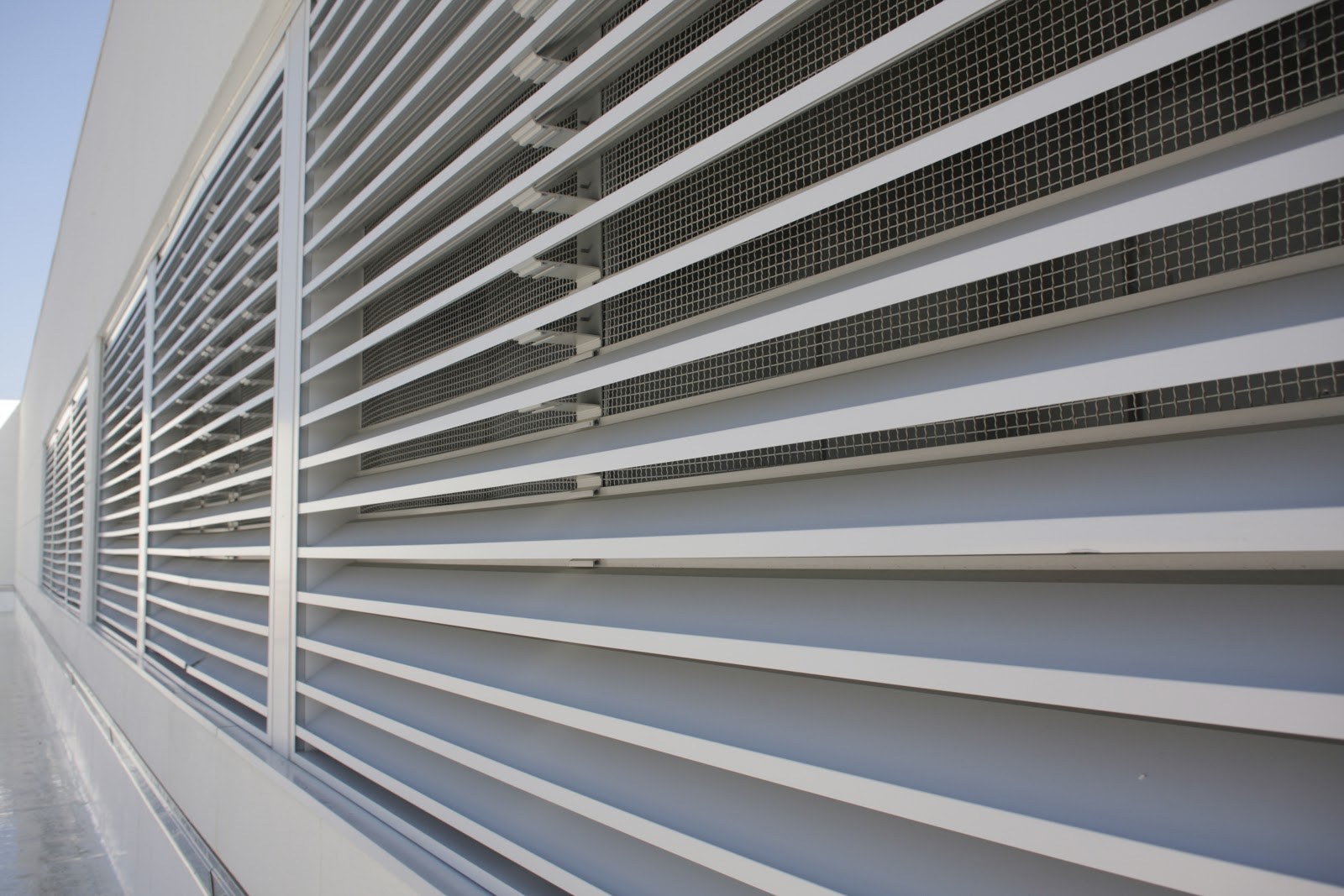 The answer is simple; they allow the flow of air, while blocking rain and debris from entering into the building.
Some designs allow the façade of a building to provide natural ventilation for the building to 'breathe'..
Louver systems are installed on most buildings to ensure a smoother intake and exhaust of air, and also to provide stronger resistance against rain and noise intrusion.
However, louvers have many uses for both engineers and architects.
They can also be used as a simple yet effective screening solution for buildings to hide unsightly equipment - or to provide an aesthetically pleasing yet economical design element to the façade.
Louvers can be utilized in a range of performance types, including drainable, non-drainable, wind-driven rain resistant, combination, thin-line, acoustically rated, adjustable, and even extreme-weather resistant.
When buying a louver system, make sure you have a clear understanding of the purpose of louvers and how louvers work so you can be sure that you are purchasing the right louver design for your needs.
Also, ensure that the louver system has an AMCA rating, which denotes that it has been tested and certified by the Air Movement and Control Association (AMCA); it can be found in the technical data sheet provided by the manufacturer.
When are Louvers Required?
The use of louvers can vary from building to building, depending on its design and capacity.
For example, a car park might require good airflow, but it may not need maximum protection from the rain so that a conventional louver design would be more than enough.
On the other hand, the generator or plant room that contains electrical equipment may require fool-proof protection from storms and hurricanes as well as high-performance airflow specs.
How do Louvers Work?

Louvers are made functional by fixed or operable blades installed on a frame.
The number, size, and design of the blades depends on the type of ventilation and protection you require from the louver. Each blade has a unique configuration, allowing for different things to pass through it. For example, a wind-driven rain louver may allow air through, but not rain, or in some cases, debris.
Additionally, there are several things to consider when selecting an architectural louver system for your building. These include:
Free Area
A high-percentage free area is great because it allows for more air to enter via a smaller opening, thus reducing the expenses involved in opening up the wall and installing louvers. The free areas usually range from 35% to 60% of a wall opening.
Water Penetration
The 'Point of Water Penetration' is where the louver system allows the water to pass through it. It is a measurement of free area velocity that tells us the threshold at which the louver will start leaking.
For traditional louver designs, this varies from 300 fpm (feet per minute) to 1250 fpm, with the latter denoting an excellent resistance to water entrainment.
Pressure Drop (Resistance to Airflow)
Every louver will create wind resistance based on its design as well as the shape of its frame and blades, and anything that obstructs the airstream creates resistance – such as ductwork, filters, coils, the building structure itself.
The louver's resistance is measured by running air through it and then calculating the pressure differential and free area velocities. It is essential to minimize this resistance where possible because it can be harmful to the louver and other air movement equipment. It is also vital to ensure lower energy consumption, as the lower the pressure, the less power will be required to operate the fan.
Louver Design

Architectural louvers are engineered to meet the demanding performance requirements of modern structures that are not only being built higher but also subject to more inclement weather and environmental elements than ever before.
There is no denying the fact that it is imperative for architectural louvers to strike a balance between aesthetics and performance – since they are visible from the outside of the building, these systems must be able to assimilate seamlessly into the building design.
They can be installed horizontally or vertically, custom-shaped, and even finished in a variety of ways. Varying blade depths, and variable blade frequencies as well as a staggered placement of the blades can also play a role in creative design of louvers.
Louvers serve many purposes, but they can also add style to your building's envelope. Interested in learning more? Check out our continuous education course, "Louvers for Style and Aesthetic", hosted by AEC Daily. In this course, we cover the important mechanics of a louver in greater detail. Learn more about pressure drop, water penetration, and more! We also offer a few pointers on how to turn your louvers into works of art with custom finishes, color matching, and other aesthetic options.
"Louvers for Style and Aesthetic" is a free online course that offers 1.25 learning units through our AIA Providership. Meet your continuing education requirements online or in-person. Choose from our self-paced online course, schedule a webinar, or schedule a face-to-face training session with an industry expert from AWV. Click here and start the course today!
Architectural Louvers - Safety and Comfort
Here at AWV, we have developed a range of louvers to meet the complex needs of modern architecture, ensuring superior ventilation and protection at the same time.
Our louver line-up offers an array of weather protection capabilities, styles, and blade profiles to suit all the requirements of your project. These louvers are designed to ensure that all of your performance needs are met.

If you'd like to learn more about our architectural louvers, check out individual products right here. If you don't see a style that suits your needs, you can send us a sketch of the shape and dimensions required, and we'll engineer a custom architectural louver solution that fits your needs.
If you have any further questions, you can always get in touch with us for further advice and guidance about the product.